Climb the 199 Steps (tradition says you have to count them as you go) from the old town to the Abbey headland for magnificent and much-photographed views over the roofscape, harbour entrance and out to sea. Today, the stone benches beside the steps at increasingly frequest intervals, are often used as seats but they were originally resting places for coffins, to allow the pall bearers some respite during the steep climb. To the right of the steps is an equally steep, cobbled roadway known locally as the Donkey Path, but more formally as Church Lane (this is now a trap for car drivers with blind faith in their sat-nav systems!)
Catch your breath at the top by Caedmon's Cross, erected in memory of the Abbey herdsman during the time of the Abbess Hild. Caedmon created the first religious verses known to be composed in Anglo-Saxon English, rather than Latin. The path then leads through the graveyard to the Parish Church of St Mary. Its rather squat exterior gives no clue to its unique and unforgettable interior… but we won't spoil the surprise. Definitely one of the 'must-see' sights of Whitby.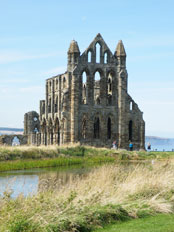 On leaving the churchyard (after searching for 'Dracula's grave', if you must) the Abbey ruins are directly ahead of you. Through the archway to the right is the former Banqueting Hall built by Sir Hugh Cholmley in 1672, which now houses the Abbey Visitor Centre. Behind the Visitor Centre is Abbey House, originally the Abbot's lodging it was much altered over the centuries by the Cholmley family who gained ownership after the Dissolution of the Monasteries. Now magnificently restored to preserve its important architectural detail, Abbey House has become a Youth Hostel unlike any other. It rivals many hotels and uses fresh, locally-sourced ingredients in its dining room, which doubles as the Visitor Centre Tearoom by day. Well worth a visit.