John Stephenson was Whitby's Town Crier for more than forty years, a colourful character who wore a patten to compensate for a short right leg. He was widely known as John the Bellman.
Respected for his somewhat original style of delivering the messages as Town Crier, and credited for bringing a smile to the faces of visitors to the town, John became a well known and much loved figure in Whitby.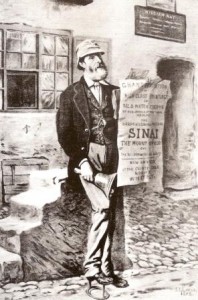 A lithograph from the TH English Collection of Prints shows 'John the Bellman' on Flowergate in 1888.
Towards the end of his life he was persuaded to enter the Union Workhouse where he could be given the care and attention necessary for his comfort at his advanced age.
He spent only a few weeks there before his death on Thursday 18 April 1907, aged 76. He was a happy soul until the death of his son at Lorenzo Marques, during the Lord Robert's occupation of Pretoria, the news of which took the light from his eyes and the cheeriness from his lips. Decay of the brain was given as the cause of death. Whitby still boasts an active, colourful Town Crier to this day.