How many Whitby facts can you show off to your friends and family when you visit our lovely town? Let us help you impress with these Whitby facts:
We've got a smuggling history
Smugglers thrived in North Yorkshire coastal towns. Rum and brandy arrived by sea away from the watchful eye of the taxman through secret tunnels. Local pubs and inns stored the goods for trade. Men and women worked together to smuggle illegal items as the tax collectors didn't suspect women of illegal actions.
We were once a whaling port
A less pleasant, but equally important, part of our history is our whaling history. Whaling was a massive industry for us between 1750 and 1840, with many of our families becoming rich from the trade. The whale bone arch on top of West Cliff reminds us that we were once a whaling port.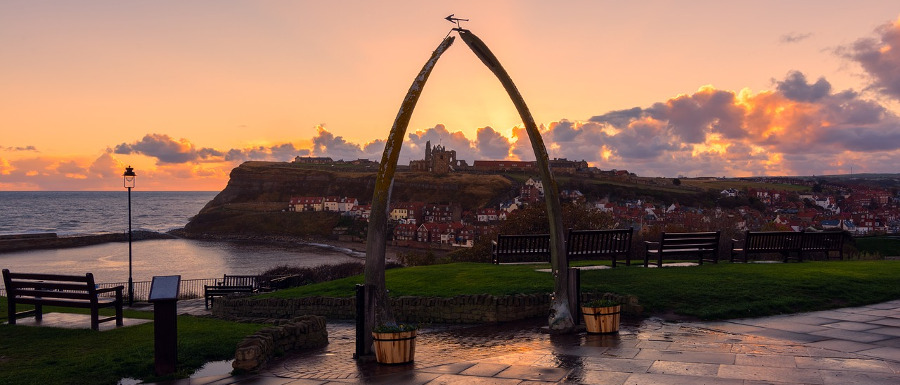 We were bombed in WW1
Whitby suffered during WW1 at the hands of the German Navy. In December, 1914, German troops attacked coastal towns. Over 100 people died and almost 600 people were injured. Whitby, Scarborough and Hartlepool all suffered.
You can learn more about the bombing at the Sunken Gardens memorial on West Cliff.
Whitby taught Captain Cook to sail
Captain James Cook studied for his seaman's apprenticeship right here in Whitby. He is one of the most famous explorers of our time and had a huge impact on Western knowledge. You can learn all about Cook and his voyages at the Captain Cook Memorial Museum.
We still honour the penny hedge
On the eve of Ascention Day, you'll find the locals making a barrier in the River Esk to honour the penance of the town's ancestors. History tells of the murder of a hermit by landowning huntsmen. Before succumbing to his injuries, the hermit promised to forgive his assailants if they would consent to carry out this penance.
Find out more about the penny hedge penance.
We inspired Bram Stoker's Dracula
Bram Stoker visited Whitby and fell in love with the town and used the 199 steps, St Mary's churchyard and the Abbey ruins as settings for his novel. That's why you'll see so many Gothic items being sold around the town. On your next trip, why not visit the Dracula Experience, or plan your trip to coincide with the Whitby Goth Weekend which takes place twice a year?
Learn more about Whitby and Dracula.
You can find fossils on our beaches
Fossilised remains are found all along our coastline. After a storm or heavy rain, fossils fall from the cliffs waiting for those with a keen eye to discover them. Look out for a rock that's a bit misshapen or one that has a funny mark or line. It could be hiding an ammonite.
Check out our fossil hunting tips.
You might also find jet
While you're out looking for fossils, you might also come across a piece of Whitby jet. Just as old as the dinosaur remains, Whitby jet is made from the resin of trees from the Jurassic period. If you are lucky to find a piece, take it to one of our specialist jewellers who are experts in creating beautiful pieces from this precious material.
What are your favourite Whitby facts? Send us a message on Facebook or Twitter.