Each and every event listed below have certainly become hugely popular, permanent fixtures on the Whitby annual events diary as they continue year on year, due to popularity and growth.
1. Whitby Steampunk Weekend (Beyond the Sea) – Friday 28 – Sunday 30 July 2017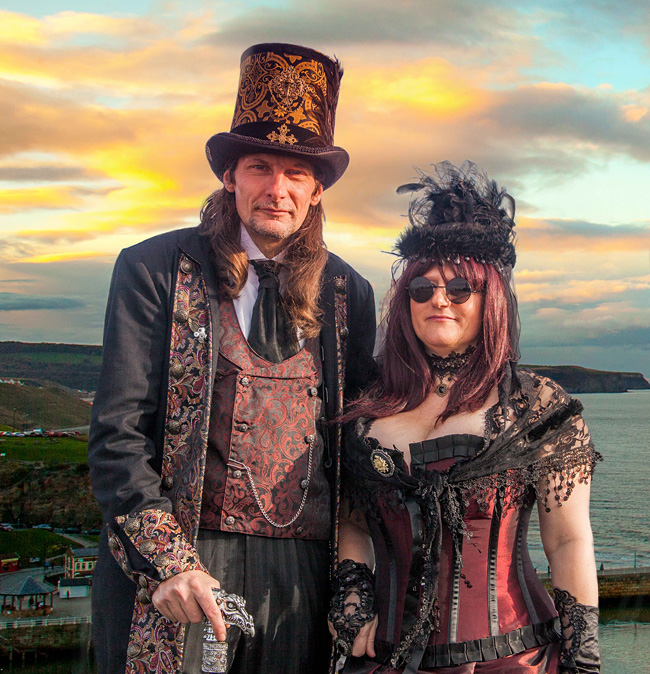 This popular annual event is now a biannual, as the earlier one this year took place in February. For those unfamiliar with Steampunk, it's an aesthetic based on a mixture of 19th Century style (Victorian era) and science fiction. Expect to see old combined with new – a modern day mix with classic Victorian clothing in the form of top hats, goggles, waistcoats, fascinators, bustles and corsets in a fine range of colours. A hint of the fantastical reveals giant octopuses, ray guns and a variety of other costume accessories to complete the look. The weekend includes a Cabaret at Whitby Pavilion on the Friday evening and a Masquerade Ball on the Saturday evening at the Met Ballroom. For further info: http://steampunkalmanac.co.uk/whitby/wsw-july2017/
2. Coastline Festival – Saturday 19 August 2017 (gates open at 1.30pm)
Following on from the success of the 2016 Festival (for which world-known 10CC were headliners) the 2017 Festival will again be held at Cross Butts with headliners 'Heatwave', with further soul, disco and funk played by loads of great bands including Arguments Yard, The Storm Trees, Chris Berry Band, Daniel Whitehouse, Raw 60s and James Wales. Coastline this year will also be organising a food and drink fayre, showcasing the very best of what the North Yorkshire coast has to offer. Further info from: http://www.coastline-festival.co.uk/
3. Whitby Regatta – Friday 18 – Monday 21 August 2017
Enjoy a full week of excellent entertainment within this 176th anniversary of aquatic entertainment which includes rowing races, yacht racing, Naval and RAF displays, Grand Parade themed decorated floats and much more, finishing with a presentation of prizes and a spectacular "After Dark" display of fireworks. The annual Regatta is known to be possibly the oldest sea regatta held on the North East Coast and has become a strong magnet for gathering huge crowds in to Whitby over the years. It's that popular that the Regatta's own website already reveals dates for 2018, 2019 and 2020! For a full list of events, please click on the following links: https://www.visitwhitby.com/blog/event/whitby-regatta-2017/ or go to the Regatta's website: http://www.whitbyregatta.co.uk/events.html
4. Whitby Folk Week – Saturday 19 – Friday 25 August 2017
This very special annual festival is really one of a kind and hugely popular. It has its very own music and craft fair and there are a great number of events planned for families and a full day's programme of events, particularly for children of all ages. For further information contact: https://www.visitwhitby.com/blog/event/whitby-folk-week-2017/ or directly to the Folk Week's website: www.whitbyfolk.co.uk
5. Autumn Steam Gala – Friday 29 September to Sunday 1 October 2017
Held over a 3-day weekend, this fabulous Gala just gets bigger and better and will be hosting up to 11 different steam locomotives over the weekend, some visiting from the Llangollen and Severn Valley Railways – bringing a welcomed 'Western' feel. Also planned are appearances from the North Eastern Railway which will include the Black Five Class, 45428 Eric Treacey which are currently undergoing overhauls. For further information please click on the following link: https://www.nymr.co.uk and check out their events.
6. Railway in Wartime Weekend – Friday 13 – Sunday 15 October 2017
This amazing annual event, held over 3 days is a firm calendar favourite, drawing an ever-increasing crowd to Pickering and the area. Step back in time and enjoy excellent entertainments, vehicle displays and re-enactments along the line at Pickering, 'Le Visham', Goathland (known globally as 'Hogsmeade Station' in the film: 'Harry Potter & the Philospher's Stone') and Grosmont Station to complete the line of travel.  The heritage railway station clocks will be turned back to a time when Britain was in the grip of the Second World War, starting early on Friday 13 October at 8.30am. Each station down the line will be transformed to a most atmospheric era, creating scenarios including music and dance at Grosmont, Home Guard demos at Goathland, Levisham transformed to 'Le Visham' (a German occupied French village) with re-enactments and Café Allee du Bois. 'The Sidings' (a wartime street) will be shown at Pickering Station and includes a NAAFI, the Sidings Inn, wartime hair salon, various traders and great entertainment, including the Ampleforth College Band (playing 1930s/1940s music on Sunday afternoon). Not to be missed – and something for all the family to enjoy. For further info: www.nymr.co.uk and go to events.
7. Whitby Goth Weekend – Friday 27 – Sunday 29 October 2017
This twice yearly, massively popular and growing alternative goth music festival comprises two nights of live bands held at Whitby's largest venue: Whitby Pavilion plus three days of alternative trade stalls in the Pavilion, the Leisure Centre and the Brunswick Centre. The origins of WGW date back to 1994 where the very first meeting took place in the Elsinore pub with The Little Angel being a popular, continued meeting point during the weekends.  Fringe events take place in many other places such as Abbey Wharf, The Met and RAW Nightclub. Visitors travel miles and miles to be part of the weekends and to enjoy the amazing sights and sounds these festivals bring. For further information about this 3 day event, visit the website: http://www.whitbygothweekend.co.uk/itinerary/